One of the best preserved examples of neoclassicism in upper Norrland, Örträsk Church was built 1849  outside of a small urban area by Erik Jonsson, also known for his work on Vilhelmina Church. In all likelihood, the same blueprints have been used. The nave is panelled both on the inside and outside; the latter of which panels are separated by pilasters. Tower in west and vestry added in the east. The tunnel vault is completely painted with cassettepatterned mock perspective. The altarwall framed with architectural painting in mock perspective, is since 2014 furnished with a painting signed "P.E. Fiellström Pinxit 1738", that with the pulpit is moved from Lycksele Church in regard to construction. The furnishing is well preserved with amongst others benches. The organ loft was built 1909 according to the design of Torben Grut. In a general restoration during 1967 according to the design of Bengt Lidström the substructure of the stands.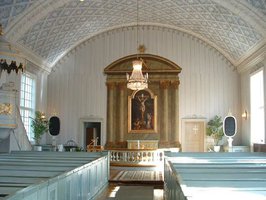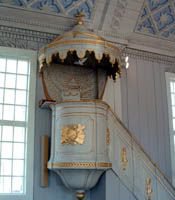 Särskilt kan nämnas en mässhake i röd sammet med granatäppelmönster från 1500-talet som sannolikt kommer från Umeå Landsförsamling.
Med bl.a. en medeltida mässhake, av granatäpplemönstrad sammet från slutet av 1400-talet, som finns i en egen monter.